November 2017, Casablanca - In aid of UMPA ("Union Marocaine pour la Protection Animale")
---
AUXAN was anxious to offer its assistance to a centre in great financial difficulty in a North African country, where the fate of animals is often quite tragic. Since its creation in Casablanca, UMPA not only takes animals into its shelter, but also works hard to look after working animals which are often subjected to severe conditions, seven days a week and free of charge. AUXAN's donation in June 2016 helped the association to pay off some of their unpaid invoices for medicine and suture used for this free care. Some of these poor animals are simply left on the side of the road without food or water. UMPA also takes care of horses and donkeys, which are often very emaciated due to overwork and owners who do not feed them enough or look after them properly. Most of them limp, suffer from equine distemper (or bronchitis), injured legs or nails in their hooves. As well as providing treatment for these enfeebled animals, UMPA also carries out an awareness campaign with their owners, explaining how to harness the animals in a better way, for example, and also with children, by inviting schools to visit the centre. About UMPA… The "Union Marocaine pour la Protection Animale" was founded in 1916 by Madame Berthe Dugendre and some of her friends in Bouskoura in the region of Casablanca. The organisation was supported by the Moroccan government from the outset and in 1924 a decree officially recognised its activities. The Dahir, or royal decree, in 1933 further confirmed UMPA's position, by cracking down on cruelty to animals and the association was recognised as being of public interest in 1952. Since then, UMPA has taken in abandoned, injured and sick animals, including horses and donkeys that have been ill-treated or badly harnessed, often bent under the weight of their loads or cruel blows, and kittens and puppies that have been thrown out onto wasteland or into the streets. Every day, guard dogs, cats, and horses and donkeys belonging to cart drivers or destitute individuals come for free treatment. Some of the equine animals are so thin, exhausted, ill and injured that the centre keeps them for several months or the time that is necessary for their recovery. Sometimes they are even bought in order for them to spend the rest of their life in peace. A few figures… In 2015, UMPA took care of 440 dogs, 240 cats, and 600 horses and donkeys. It neutered 80 animals and adopted 145. UMPA shelters more than 100 dogs, 100 cats and 40 equine animals on a permanent basis in a haven of peace for the disadvantaged. The Team… Rachid, who is the president of UMPA and a vet, is in charge of the centre. Elise and Martine, have been volunteers for more than 20 years, the latter being in charge of adoptions. Due to the lack of finances, the centre has no vehicle, so the staff are obliged to use their own cars for transporting the animals or, in the case of horses and donkeys, to hire transport. The French association DIANA, represents and collects funds for UMPA in France.
Video introducing the Shelter: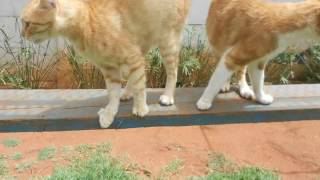 Websites: www.umpa-maroc.com, Facebook: www.facebook.com/umpa.maroc In March 2017, donation of medical supplies (sutures, anti-flea and anti-tick sprays, various single use medical equipment) to UMPA veterinary clinic to help operate rescued and/or ill animals.
Donation of medical equipment, UMPA non-profit organization, March 2017 In November 2017, AUXAN donated more sutures ( 15 boxes) to help operate the animals treated by UMPA animal shelter.
---
---