May 2018, Kiev - Celebration for 21st Year Anniversary of SOS Animals Kiev
---
In October 2014, AUXAN made a modest contribution to support the SOS Animals Kiev rescue centre. The fate of animals has grown much worse since hostilities broke out in Ukraine, a country where conditions were already quite alarming…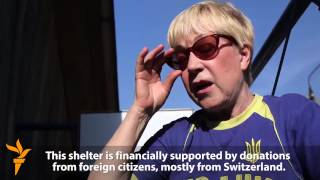 We discovered Tamara Tarnawska's animal shelter thanks to an article written by a Swiss journalist in lematin.ch on November 25th 2013. The president of AUXAN met the journalist-reporter in question, Victor Fingal, in Lausanne to find out more about the shelter and the conditions in which the animals were kept there. The shelter is located in Pirogovo in the suburbs of Kiev and houses 1,500 dogs and over 285 cats. It is unique in its kind in that the animals are completely free to run around and mix with each other (except of course for the convalescing, traumatized or handicapped ones). In spite of this, visitors to the shelter have not detected any aggressiveness.
Tamara, an ex-journalist who worked in Munich and then in Geneva at the United Nations Organisation, discovered the horrors and cruelty inflicted on homeless animals when she visited the Ukraine in 1992. Since then she has carried out exemplary work in the domain of animal protection by acting both on-site and with the Ukrainian authorities. In 1997, she succeeded in obtaining permission from the Mayor of Kiev to open a shelter for stray animals and she also began a campaign promoting sterilisation. It is difficult to believe that on the spot where Tamara's shelter was built, there existed a slaughterhouse where for almost 50 years stray animals were subjected to the most terrible torture (filmed secretly under Tamara's guidance). Since her association was recognised as being for the public good in 2006, she has also succeeded in getting a law passed against cruelty to animals in Ukraine. The shelter has had no financial support from international sources since 2012 and relies totally on private donations in order to survive. Although on the brink of bankruptcy, Tamara is doing her best to face the daily problems of an overpopulated shelter in a wartime situation. The president of AUXAN, who had just founded her association and consequently had no available funds at the time, was much affected by the article in lematin.ch describing Tamara's combat and sought to provide assistance indirectly by putting Tamara in touch with an American foundation which was liable to help her on a temporary basis. This was in December 2013. The president of AUXAN wrote to the foundation, Harmony Fund, outlining the alarming situation in Ukraine and requesting support for Tamara. At the beginning of 2014, Harmony Fund provided an ad hoc emergency aid to the Kiev shelter (food provisions and fuel for heating in winter) amounting to 30,000 US dollars. As a former journalist, Tamara was unfortunately subjected to threats – her car was set on fire, hooded men attempted to set fire to her flat and Molotov cocktails were thrown over the walls of the shelter. Thanks to the help from Harmony Fund, a security guard was posted in front of the shelter – but he, too, was violently attacked and grievously harmed. With her meagre resources (lack of funds and 27% inflation), Tamara can no longer buy animal food, but with the support of the American, Austrian and German embassies, the local supermarkets supply her with cheap meat mixed with cooked oats. In October 2014, AUXAN financed the purchase of 10 boxes for abandoned dogs and cats and, thanks to our support, Tamara was also able to buy some straw and hay for added warmth and comfort.
---------- On March 28th 2015, on the 18th anniversary of the Pirogovo animal shelter, an open day was organised for the Ukrainian public, in the presence of certain representatives of the Kiev municipality (who provide no financial support for Tamara's shelter) and diplomats from the Polish and Austrian embassies in the Ukraine. On this occasion, Tamara Tarnawska was awarded a prize by the municipality for "long-term conscientious work, professionalism and significant contribution to resolving the problem of homeless animals in Kiev."
SOS Animals Kiev. Email: tamarat@voliacable.com Site web: www.sos-animals.info Facebook: FRIENDS OF THE SHELTER SOS KIEV. Compte paypal: MMLUDIVINE@GMAIL.COM In August 2015, AUXAN donated some bottles of Carbesia, a medicine used, among other things, to save dogs from piroplasmosis, a parasitic illness caused by tick bites which lead to the destruction of the red corpuscles in the blood.
---------- Aid in favour of SOS Animals Kiev - November 2015 and January 2016 In view of the very alarming financial situation, AUXAN's priority was to help Tamara's shelter get through the 2015-2016 winter. With empty coffers, the association was living from day to day thanks to one-off donations collected by volunteers in Sweden and two associations in Switzerland, one of which was AUXAN. In the spring of 2016, some Polish associations promised to deliver dried food collected in Poland and transported by lorry, thanks to the help from the Polish Embassy in Ukraine. The minimum operating costs of the shelter come to around 3,000 euros a month – for electricity bills, wood for heating, medicine and veterinary expenses, food and new kennels and cages. The winter of 2015-2016 was particularly hard for Tamara and her protégés. Seventeen dogs were poisoned (on 4th February and 7th March 2016), probably by Ukrainians who wanted to intimidate the shelter's voluntary workers, but also to show their determination in their opposition to the representatives of the civil brigade "Azov". The latter publicly announced that they were going to war with animal killers and were collecting information. Tomi Tomek, the co-founder of "SOS Chats" in Noiraigue in Switzerland, decided to collect money to pay for security guards at the entrance of the shelter. --------- Aid in favor of SOS Animals Kiev – April and August 2016 In April 2016, AUXAN helped the association to pay for some of their monthly operating costs, in an increasingly difficult and hostile economic and political context. The funds were mostly used to pay electricity bills, dog and cat food and veterinary expenses, but also contributed to some renovation work on the shelter. At the beginning of this year, the shelter was a victim of threats and acts of cruelty towards dogs, engineered by the Ukrainian dogfighters, a 300-man militia bent on wiping out all dogs and all people who look after them. They have already poisoned more than 25 dogs and sent several death threats to the president of the association, so it is evident that SOS Animals Kiev is in growing need of our support in order to ensure its continued existence since it is in more and more danger. In August 2016, thanks to the generous donation of anti-flea and anti-tick products by the Swiss laboratory BIOKEMA, AUXAN was able to make a material donation in the form of 33 packets of ADVANTIX™ and 6 packets of BRAVECTO for the dogs at the SOS Animals Kiev shelter.
---------- ​​​​​​​ Aide à SOS Animals Kiev, Novembre 2016 In November 2016, Auxan made a donation to Tamara's sehlter in Kiev. This shelter is in a critic financial situation and has no more funds to cover its running costs and feed the 2000 animals from January 2017 onwards. Auxan's donation enabled SOS Animals Kiev to buy wood and 30 kennels. In November 2016, AUXAN made a donation to help Tamara cover her running costs. ---------- In February 2017, AUXAN made another donation to help buy food for the 1500 animals in this critical winter period. ---------- 21-22 April 2017, Celebration of 20 Year Anniversary of Tamara's animal shelter, « SOS Animals Kiev », with the local authorities Visit of Tamara's shelter, « SOS Animals en Ukraine », after the official ceremony in the townhall of Kiev with the Ukrainian authorities and Swiss politicians. Donation of medication (Carbesia) to save dogs stung by ticks.
Ceremony in the townhall of Kiev, 20 Year Anniversary of Tamara's Shelter, April 2017
Visit of SOS Animals Kiev shelter, April 2017 ----------- In July 2017, AUXAN helped cover the running costs ( electricity mostly) of the shelter from August to September 2017. ---------- In September 2017 and February 2018, AUXAN helped cover runnings costs of SOS Animals Kiev Shelter. ---------- May 2018, Jennifer was delighted to participate in the 21st Anniversary of SOS Animals Kiev, with locals and volunteers from all over the world.EVENT 22, 12 May 2018, Celebration for 21st Year Anniversary of SOS Animals Kiev, UKRAINE
---
---